Michael McKeever – Private Detective Investigation Services: Infidelity & Matrimonial Investigation, Private Investigations & Employment Background Checks in Manhattan, NY, New York, and Surrounding Areas
---
A Detective Answers Every Question You've Ever Had About Being A PI
Thrillist — Wil Fulton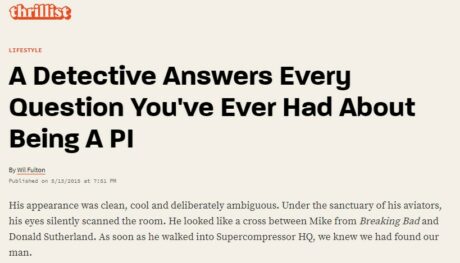 His appearance was clean, cool and deliberately ambiguous. Under the sanctuary of his aviators, his eyes silently scanned the room. He looked like a cross between Mike from Breaking Bad and Donald Sutherland. As soon as he walked into Supercompressor HQ, we knew we had found our man…
---
Samsung Galaxy S20 Ultra 100X Zoom Camera Reviewed by Michael McKeever, Private Eye
Wall Street Journal
Samsung's Galaxy S20 Ultra provides up to 100X digital zoom, but who needs that kind of snooping power? A private investigator, that's who. WSJ's Joanna Stern teamed up with a New York-based detective to test it and compare it to other phones and ultra-zoom cameras.
---
Michael McKeever – PI
Delivering the truth…with honesty and proof.
Third Generation of Private Investigation
Everyone has secrets: things they keep hidden from family, friends, employers, and, on occasion, even themselves. You never know what someone might be hiding, and there's usually no need to know… until that secret impacts your life. When a secret is keeping you from knowing the truth, Michael McKeever goes to work. As a New York licensed Private Investigator, Michael has been helping clients just like you for more than three decades. Tenacity, determination and professional experience come together to get to the truth, no matter how elusive it may be.
---
The Science Of Investigation
Forget what you've seen in movies. Most of the work of a Private Investigator becomes routine once he has the experience necessary to master the fundamental yet vital techniques of the trade. You'll want to make sure you've chosen a Private Investigator that has the hands-on experience you need.
Michael McKeever is an expert at gathering information, knowing where to look, what to look for and how to do so without attracting attention.  No stranger to hard work, Michael has spent over 30 years throughout the state of New York, especially New York City, Manhattan and surrounding areas developing techniques that work and eliminating those that don't, resulting in a level of organization that produces results more efficiently and effectively.  Michael has earned a reputation for being poised in every situation.  He knows that a friendly, patient demeanor breaks down barriers and peels away defenses quicker and more effectively than a belligerent, aggressive approach.
Watch Michael McKeever Fact-check Detective Movies
Dealing Discreetly, Honestly…
And Personally
When you hire Michael McKeever as your Private Investigator, you deal with Michael McKeever personally. We understand the importance of discretion and believe the best way to protect your privacy is to keep your inquiry between yourself and Michael.
Domestic Investigations
Surveillance
Locates
Missing Persons
Computer Forensics
Litigation Defense
Video & Photo Evidence
Insurance Cases
and virtually any circumstance where you need to find the truth.